Tournaments Revamp!
Introducing Shield Leaderboards and Weekly Tournaments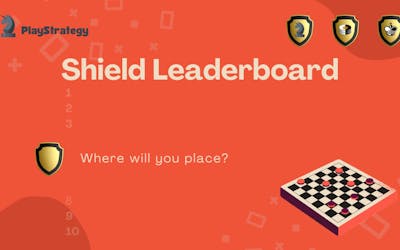 No joke - we've got a few exciting updates regarding tournaments on PlayStrategy!
Shield Leaderboards
To add a bit more competition to the shields tournaments, we have created some leaderboards for them!
We have three leaderboards, an Overall Leaderboard which includes all variants and medleys from the last two months. At the time of launch, @oruro is at the top with 72 points. oruro is also heading the Chess Leaderboard with 52 points. The Draughts Leaderboard is very close and could change at the next tournament with @ZAS heading the table with 23 points.
Points are scored on the leaderboards with results from both Variant Shields and Medley Shields in the last 2 months:
1st Place: 5 points
2nd Place: 3 points
3rd Place: 2 points
Played at least one game: 1 point
The only other restriction is that a player can only use their best score from the same shield in their leaderboard score.
For example if a player comes 2nd in the most recent Lines of Action shield but came 1st in the previous Lines of Action shield, then they will only have 5 points (for the 1st place) counting towards their total score.
This means inactivity in the shields will see players lose points whilst others can gain!
Variant Shield Timeslot Change
We've had some requests to move the time that the variant shields are at. Previously they were all at 18:00 UTC, with some at 17:00 UTC (when there were two shields on one day). From now, in even numbered months (e.g. February, April, June etc) the shields will be at 18:00 UTC with double up tournaments at 12:00 UTC. In odd numbered months (e.g. January, March, May etc) the shields will swap and be at 12:00 UTC with double up tournaments at 18:00 UTC.
We hope this change allows more players to play in the shields and compete on the leaderboards!
NEW: Weekly Tournaments
We have also added Weekly tournaments (55min arenas) for all games and variants available on the site. The Weekly Arenas are staggered throughout the week (and rotate 1 timeslot each week) to accommodate players in different time zones. To make sure there is always someone to play we have invited PS-Greedy-Two-Move to all the weekly arenas.
The current schedule for shields and weeklys can be found in our tournament calendar.
Have fun playing and competing on PlayStrategy!