Say hello to PlayStrategy at the UK Games Expo!
PlayStrategy have a stand and are running tournaments at the 2023 UK Games Expo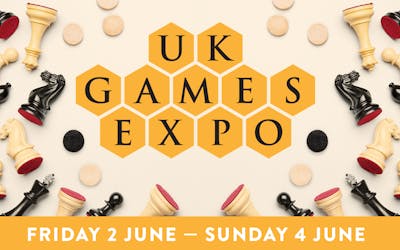 PlayStrategy will be at the 2023 UK Games Expo which takes place in Birmingham between Friday 2nd June - Sunday 4th June. Similar to previous years, PlayStrategy will have a stand at the UKGE on all days, where you can come and meet the team and play some games with us!
PlayStrategy will be running tournaments throughout the event, and there will be prizes for players who win a tournament and can come to our stand to collect it. The tournaments will still be open to any user on PlayStrategy. These tournaments can be found by joining the dedicated UKGE PlayStrategy team here. A summary of our tournament schedule is as follows (times shown are UK, UTC +1):

Each tournament is a Medley Arena, which will include rotating 1 hour slots of different games. On the Friday and Sunday we have Abstract Arenas which will include: Chess, English Draughts, Lines of Action, Othello, Amazons, and Oware. Meanwhile on the Saturday is a Chess Variants Arena featuring 8 different variants on Chess.
For more information, and to buy tickets for the UKGE, please head over to their website.